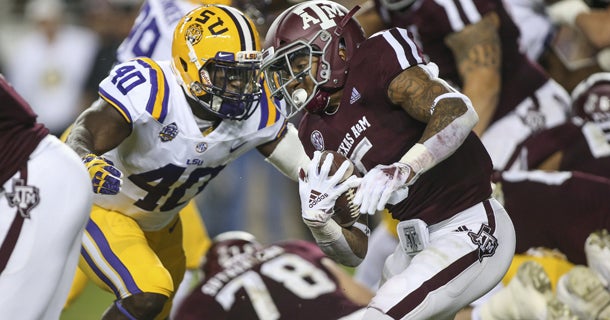 Bleacher Report handed out its awards for the 2018 football season and while these included shout outs to individual players in different categories than what you usually see, they also highlighted their choice for the game of the year which turned out to be one that Texas A&M fans should be intimately familiar with…the Aggies' seven overtime, 74-72 win over LSU that included almost as much drama afterwards as it did during the contest.
It was a contest that featured two teams that refused to give up no matter what the odds even in regulation. LSU trailed by double digits in the first half but came back on the legs and arms of quarterback Joe Burrow and a feisty defense to take a 31-24 lead in the fourth quarter. When the Tigers forced the Aggies to relinquish the ball with under three minutes remaining, it appeared that the Tigers would be winning their eighth straight game in the series.
Instead, it only turned out to be the beginning. A&M made last desperate defensive stand to get the ball back but Mond seemingly threw an interception that appeared to end the game as evidenced by a Gatorade bath given to LSU head coach Ed Orgeron…except that the play was overturned and the Tigers had to keep playing.
Facing a fourth and 18 on its now 39 yard line with 20 seconds left, quarterback Kellen Mond hit Quartney Davis for a first down, Kendrick Rogers for another gain with a spike of the ball to follow with one second left, and then Davis for the touchdown with one second remaining to send the contest into extra innings.
And what an overtime session it was…seven in all with both teams trading punches and two point conversions until Mond finally ended it all with a pass to Davis for a touchdown and then to Rogers for the conversion that finally ended the game over five hours after it started. A&M fans stormed the field to earn a fine from the Southeastern Conference and personnel from both schools had multiple confrontations that didn't earned any further actions from the SEC.
As Bleacher Report put it:
Excluding national championships, there aren't many "I remember where I was when" moments in college football. Certain fanbases will always remember big moments involving their teams, but there are usually so many games happening concurrently that it's tough for the majority of football fans to be honed in on the same one.
There are exceptions, of course. There's the Boise State "Statue of Liberty" play in the 2007 Fiesta Bowl. (More than a decade later, I can still remember I was eating a bowl of ice cream in my mom's kitchen.) There was the Kick Six in the 2013 Iron Bowl and Michigan's punt fiasco against Michigan State in 2015. And I think we can add this seven-overtime game to the list.
It wasn't any individual play—though there were quite a few great ones. It was just the increasing absurdity as the game kept dragging on. Every time the second team to possess the ball scored again to tied it up and force another period, I started laughing even harder.
And thanks to social media, it gradually became a national moment. By overtime No. 7—with LSU head coach Ed Orgeron still wet and miserable from his premature Gatorade bath at the end of regulation—it was as if we were all sitting in the same bar, staring at our phones and laptops and soaking in the glory of that game.