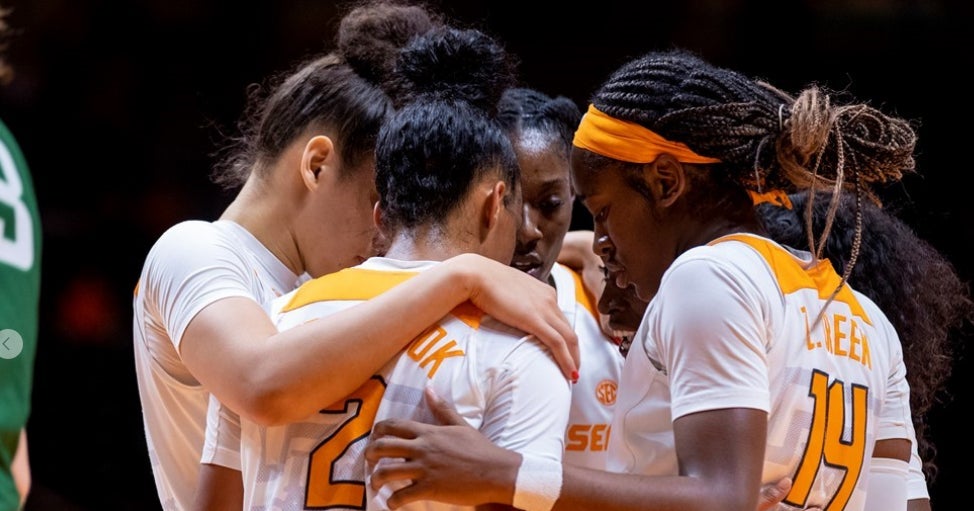 It took the second-biggest comeback in program history, but the Lady Vols stayed perfect on the season with Wednesday's 65-55 win over Stetson.
Tennessee, 7-0, secured the victory over Stetson (1-7) from the free throw line – Evina Westbrook was a perfect 9-9, while Rennia Davis missed just one at 11-12 – and relied on the stalwarts of defense and rebounding.
The Lady Vols trailed by 16 points at halftime, 38-22. The comeback is just behind the 20-point halftime deficit that Tennessee erased against Rutgers in 2009 after trailing 33-13 at the break. At the 7:29 mark of the third quarter, Tennessee trailed by 20 points, 42-22, and then took its first lead of the game, 44-42, on a three-pointer by Davis at the 2:43 mark of the third quarter, a 22-0 run in less than five minutes.
"You're down 20 points in the third quarter, teams in the past would have just folded, panicked," Tennessee Coach Holly Warlick said. "This crew doesn't seem to do that. They just gathered themselves and started playing well on the defensive end."
Battled back!

LADY VOLS WIN. pic.twitter.com/sq20cKwoW8


— Lady Vol Basketball (@LadyVol_Hoops) December 6, 2018
The turnaround started by attacking the basket and moving against the sagging zone and dialing up the defense. Tennessee spotted Stetson four more points to open the third quarter and then Westbrook connected on three free throws after being fouled on a three-point attempt.
Freshman Zaay Green stole the ball, got fouled on the drive and made two free throws to cut the deficit to 42-27. Stetson started misfiring, and Tennessee kept getting to the paint. A pair of free throws by Westbrook and a layup at the 5:49 mark off a Mimi Collins steal, followed by a pair of free throws by Rennia Davis trimmed the deficit to nine points, 42-33, with 4:55 left in the third quarter.
The crowd of 6,916 who made it to the arena on a bitter cold evening erupted after 25 minutes of being frustrated – but still supportive – during the desultory first half.
"We tried to forget how not as good the first half was," Davis said with a smile. "And give credit to Stetson, because they did play a good first half. For us, we knew that we could play better, so just getting out there in the second half and competing and playing defense and playing Tennessee basketball, that was all we were focused on.
"This team, we get going off of defense. When we're not able to get stops and not able to be aggressive, it's hard for us to score. So, when we started being able to do that in the third quarter and fourth quarter, the game got a lot easier for us."
The Lady Vols' energy on offense is fueled by defense. Tennessee had a mediocre practice Tuesday and a shoot-around Wednesday that also wasn't to the coaching staff's liking.
"To be honest, they came out with a lot more energy than we had," Westbrook said. "Give credit to them, they came out pretty much hitting every shot, and like Rennia said, we get going off of our defense, and we weren't there defensively, so offensively, we weren't there either.
"But in the second half, we really focused and dialed it back in; we were doing what we know how to do and playing how we know how to play."
Collins, who struggled in the first half got a second chance in the second half and responded. The 6-3 forward moved to the top of the three-quarter-court press.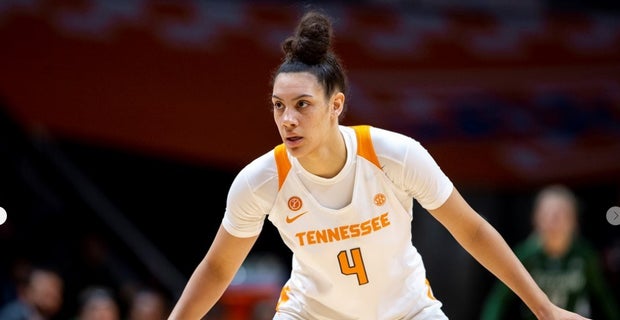 "I have one job that B.G. (Assistant Coach Bridgette Gordon) always puts on my head, she says, 'Just go after the ball,' " Collins said. "So, I just chased it; I just run like a chicken with my head cut off. I'm just going to chase the ball, that's my main thing. And plus, I don't know the back of the press, that's my biggest thing, but I'll learn it sooner or later, but in the front of the press, I just try to go after steals and try to get it because that's what we needed most as a team. We just needed energy."
Collins also cleaned up the glass on both ends and hit two big layups – including one in transition on a perfect feed from Westbrook – in the third quarter.
"I would say that me, as a freshman, it was just trying to figure out my role and everything coming into the game," Collins said. "So, when I came in, I don't know what was going through my head … when we were down, my biggest thing as a freshman is coming in to help. When I missed my shot – I air-balled it really badly – (and missed a defensive assignment on the next play), I knew I was coming out because I knew my mistakes.
"But then, Nicky (Anosike) called me to the side and was just like, 'Slow down and just breathe. You don't have to try to be a hero or try to save the day as a freshman.' It was just slow down and breathe and just play your role, and that's what I did. I just came down and I tried to do what she said; she said defense comes first, so I just got on the press and said, 'I'm just going to do what I love to do, and that's be near the front of the press, that's going after steals, and that's just what I did."
Anosike, a graduate assistant for Tennessee, won two national titles with defense and board play. Anosike also has gotten in the gym with Westbrook after practice for extra free throw work.
"I've really, really been working on my free throws," said Westbrook, who shot 51.3 percent from the line as a freshman. "Last year I wasn't happy with my free-throw shooting, and so I shoot all the time after practice. We're getting up a lot of free throws, so it's just been me working on it. So, I'm glad I made them tonight."
MAKE ??
YOUR ??
FREE ??
THROWS ??

Made 22-of-24 (13-of-13 in the 3rd quarter) in the second half to power the comeback. pic.twitter.com/U938pUlHJ4


— Lady Vol Basketball (@LadyVol_Hoops) December 6, 2018
By getting to the free throw line, Tennessee was able to trim the lead with the clock stopped and buy some much-needed time. The made free throw throws also allowed the Lady Vols to set the press and force nine Stetson turnovers in the third quarter.
"They got a lot of points off the free throw line, so they were just more aggressive," Stetson Coach Lynn Bria said. "I thought they hurt us on the glass, which was a major concern of mine before the game. Overall, I think we executed the game plan and played really, really hard."
The Hatters owned the game's first 20 minutes, and Tennessee didn't appear to have an answer on either end.
"It would be nice if we went into halftime and that had been it, but it really is not like that," Bria said. "I am proud of my team; we executed the scout, and I am proud of that."
"We really wanted to compete and compete with teams that we are not supposed to," said McKenna Beach, a senior guard for the Hatters. "We showed that we can play with anyone."
Bria, who is friends with Gordon – Gordon was an assistant coach at Stetson, which is located in DeLand, Florida, her hometown – called Tennessee and asked to play in Knoxville. Bria, who is originally from West Virginia, also has known Warlick for years and used to travel to Knoxville to watch Lady Vol games when she was in high school.
"I love coming here," Bria said. "It doesn't get any better than this when it comes to women's basketball. There is just a certain mystique. When you step on that court, it's just different."
Tennessee summoned some old school Lady Vol basketball to flip the script against Stetson.
"It was a tale of two halves," Warlick said. "Our defense the first two quarters was non-existent; our offense was stagnant, and we turned the ball over too many times. (We had) too many three-second calls, push off calls. We just have to get off to a better start.
"But our team's resilient, I keep telling you all that. We made some corrections at halftime, and they made defense a priority. So, when you go into the second half and you get 13 stops in a row, you understand the importance of defense and you understand the importance of rebounding and attacking the basket. We got enamored by our three-point shooting, which was not very good, and so (once) we started attacking the basket, we got and-ones and went to the free throw line, and what has been our Achilles heel was one of the best things we did today, and that's make free throws."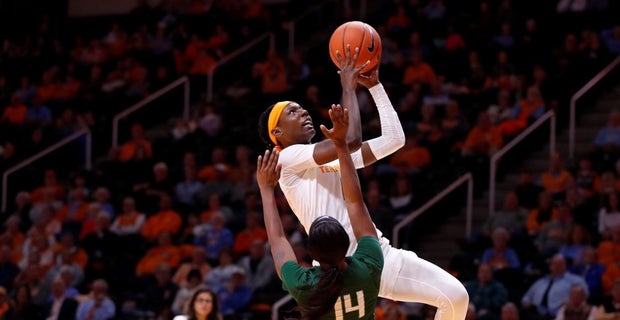 Westbrook and Davis fed off of each other, and both found openings in the zone. With post Kasi Kushkituah out with a sore knee – the sophomore was wearing a knee brace Wednesday and didn't go through warmups – Davis had to drop into the paint.
Davis scored a season-high 24 points with nine rebounds, while Westbrook added 20 points and four assists.
"Evina Westbrook, this is two games in a row where she has been outstanding, and it started with her attacking the basket," Warlick said. "She set the whole tone, and again, I think she took good shots. She made her free throws. All fairness to Rennia, she is playing inside against a zone, and we have not really worked with her on that. We have to go back and get her some more reps and practice being at the forward working inside. I thought she did a great job, too, of scoring inside and getting on the boards, getting fouled and getting to the free throw line. Those two were really focused."
Stetson shot 40.4 percent (23-57) overall, 26.3 percent (5-19) from the arc and 100 percent (4-4) from the line. The Hatters had 10 assists, 18 turnovers, eight steals and one block.
Sarah Sagerer led Stetson with 19 points and six boards, and Walters notched 17 points and connected on three 3-pointers. Jon'Nita Henry added nine points.
"Sarah missed our first two games, and she missed all of last year," Bria said. "So, we are still trying to figure each other out, too. We have got some young kids we are relying on. They will come back tomorrow ready to go, not discouraged. It's all about winning our league and competing in our league. We have a perspective. Our schedule, by design, is the hardest."
Tennessee shot 38.8 percent (19-49) overall, 13.3 percent (2-15) from the arc and 83.3 percent (25-30) from the line. The Lady Vols had nine assists, 17 turnovers – with just four in the second half – nine steals and a block. Tennessee won the board battle, 40-26.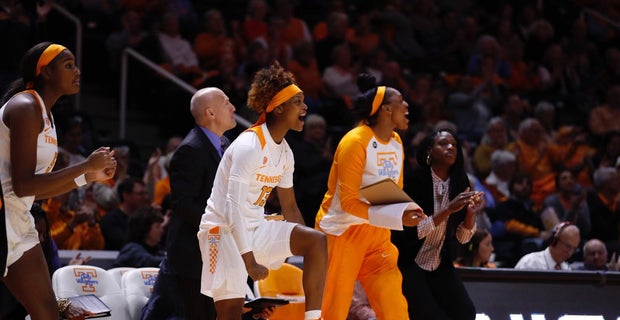 Westbrook and Davis combined for 44 points, while Zaay Green added eight points and five boards, and Collins notched a pair of sevens in points and rebounds.
Tennessee will get back on the road for Sunday's matchup at Texas. The Lady Vols will seek a better start against the Longhorns.
"It is a 40-minute game, and I love how this team has a fight in them and they do not seem to quit," Warlick said. "This team believes in each other, and that has been the difference for us. It is a tight-knit team. When you have that, you rely on each other to pull you through because some are going to have great games, and some are not going to have good games. They seem to pull each other through and really care about each other.
"I love it. I love the resilience. Personally, I would like that we never get behind, but they seem to want to stress me out. As long as we pull it through, I can handle the stress."
Tennessee Coach Holly Warlick
Lady Vols Rennia Davis, Mimi Collins and Evina Westbrook
Stetson Coach Bria Lynn, McKenna Beach and Addi Walters