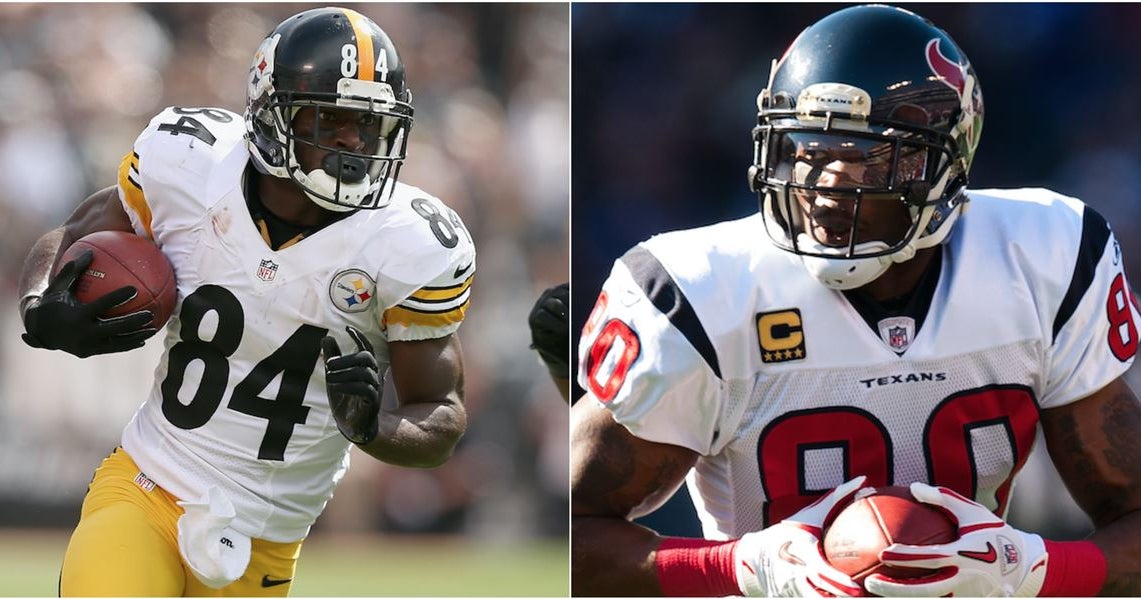 Antonio Brown appears to set a new record with each passing game. During last Sunday's game against the Los Angeles Chargers, Brown joined Andre Johnson and Brandon Marshall as the only receivers in NFL history to have at least 10 career games with 10 catches, 100 receiving yards and a touchdown. Brown, who also went over 1,000 yards for the sixth consecutive season last Sunday, caught 10 passes for 154 yards and a touchdown in Pittsburgh's 33-30 loss to Los Angeles. 
Like Brown, Johnson and Marshall are two of this century's best NFL's receivers. A fourth round pick in the 2006 NFL Draft, Marshall, a Pittsburgh native, has caught 970 passes for 12,351 yards and 83 touchdowns. The NFL's leader with 14 touchdown receptions in 2015, Marshall has eight career 1,000-yard receiving seasons. He is also a six time Pro Bowl selection while earning All-Pro honors in 2012. 
Johnson, the third overall pick in the 2003 NFL Draft, entered the league after helping the Miami Hurricanes capture the 2001 national championship. A Miami native (like Brown), Johnson spent 12 of his 14 NFL seasons with the Houston Texans, where he earned seven Pro Bowl selections and two All-Pro nods in 2008 and 2009. Johnson, who led the NFL in catches and receiving yards on two different occasions, retired after the 2016 season with 1,062 receptions for 14,185 yards and 70 touchdowns. 
Brown started his 2018 regular season by eclipsing the 10,000-yard receiving barrier during Pittsburgh's season-opener in Cleveland. Thirteen weeks later, Brown is about to break another career milestone, as he enters Sunday's road matchup with the Oakland Raiders just 62 yards away from surpassing 11,000 career receiving yards. Brown, who is currently 36th all-time with 10,938 receiving yards, will become the 35th player in league history to reach the 11,000-yard receiving mark. 
Through 12 games, Brown has 81 receptions for 1,028 yards and a league high 12 touchdowns. In last Sunday's 33-30 loss to the Los Angeles Chargers, Brown caught 10 of 14 targets for 154 yards and a touchdown. After making his fifth catch during Pittsburgh's Week 12 contest against the Broncos, Brown became the fastest player in NFL history to reach 800 career receptions. Brown reached the mark in his 126th career game. 
Brown, 30, is widely regarded as the NFL's best receiver and arguably the best player in the entire league. He was voted by his peers as the second best player in the league in the NFL Network's annual Top 100 list. Brown was No. 4 on the list the previous year. Since 2013, Brown leads the entire NFL in receptions, receiving yards and touchdowns. He is the only player in league history to catch at least 100 passes in a season five continue times. His best statistical season took place in 2015, when he caught 136 passes for 1,834 yards and 10 touchdowns despite playing without quarterback Ben Roethlisberger for parts of eight games due to various injuries. Last season, Brown led the NFL with 1,533 receiving yards despite missing most of the team's last three games after sustaining a calf injury. Brown returned from the injury to catch seven passes for 132 yards and two scores in the team's playoff loss to the Jacksonville Jaguars. 
A sixth round pick back in 2010, Brown burst on the NFL scene when he made a crucial catch in Pittsburgh's come-from-behind victory over the Baltimore Ravens in the 2010 playoffs while helping the Steelers advance to their third Super Bowl in six seasons. Brown became a Pro Bowler and was also named team MVP in 2011 after helping the Steelers win 12 regular season games for a second consecutive year. Brown's first major statistical season took place in 2013, when he recorded 1,499 receiving yards, a team record at the time. Brown surpassed that total each of the next two seasons while earning his place as the best receiver of his era. 
Brown has also become a mentor to second year receiver JuJu Smith-Schuster, who has also broken the 1,000-yard receiving barrier this season. 
"He's helped me out a lot," Smith-Schuster recently said of Brown, who is closing in on Hines Ward's franchise career receiving mark. "We always talk about just making each other better. Every day I go out and practice, I try and be the best I can be on the field, competing against him. When it comes to game day, it's just we all talk about, 'It's G.O.A.T. time.' It's time, 'The G.O.A.T. comes alive.' You make your plays, on both sides. And we've seen it work."