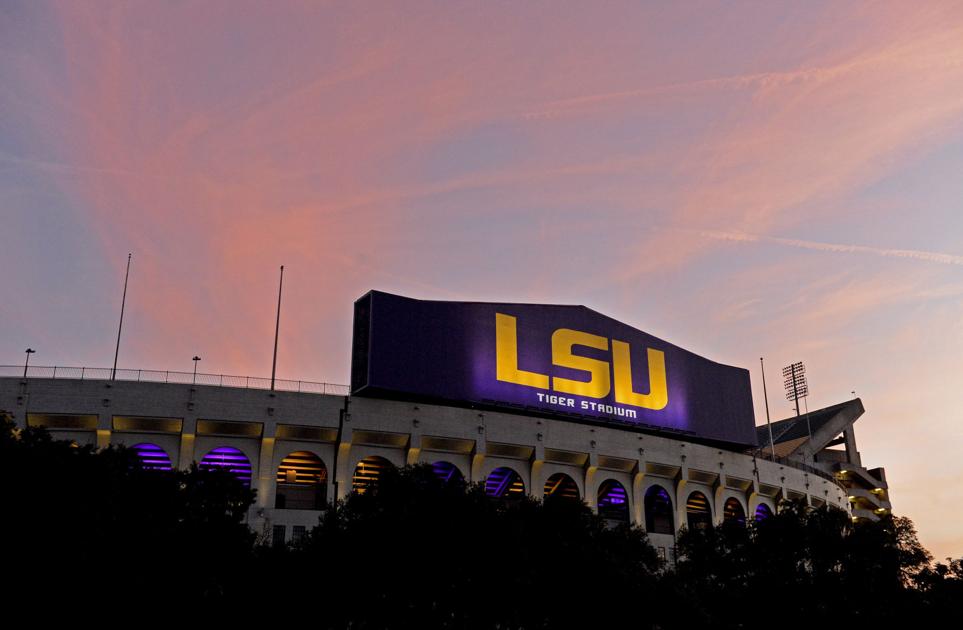 The No. 7 LSU Tigers look to keep their College Football Playoff hopes alive with a win over the Rice Owls Saturday night at Tiger Stadium.
Get important game day information and catch up on key storylines to follow below. 
—
THE GAME
WHO: Rice (1-10) vs. No. 7 LSU (8-2)
WHEN: 6:30 p.m. (CST)
WHERE: Tiger Stadium, Baton Rouge, Louisiana
LAST MEETING: LSU 52, Rice 7 (Sept. 23, 1995 in Baton Rouge)
---
BROADCAST INFO
TV: ESPNU
RADIO: LSU Sports Radio Network 98.1 (Baton Rouge) or 870 AM (New Orleans)
Click here for more radio affiliates
STREAMING: WatchESPN app
LSU cornerback Kelvin Joseph is "questionable" for Saturday against Rice, Ed Orgeron said Wednesday in the weekly SEC coaches teleconference.
---
LIVE UPDATES
Can't see updates below? Click here.
Cole Tracy and Nick Brossette both had different high school experiences, and they both started their collegiate careers in different places, …
---
KEY STORYLINES
— What's Rice worth? A recipe for LSU to find value in another SEC rent-a-win
— LSU CB Kelvin Joseph is "questionable" for Saturday against Rice, Ed Orgeron says
— For LSU seniors Nick Brossette, Cole Tracy and others, this is the grand (home) finale
— Who can play Rice and still redshirt? A breakdown of LSU's possibilities under new NCAA rule
— Ed Orgeron: I'd 'like to see' Myles Brennan play against Rice, says 'he's developed a lot'
— Inside the (betting) line: LSU is a minus-44 favorite over LSU; who's touching that?
— Look back at 5 memorable games before Tigers, Owls square off for first time in 2 decades
— LSU's Kary Vincent Jr. starts to blossom — even with his mind on his ailing dad
— Sugar Bowl? Or Fiesta or Peach bowls? Here's the lowdown on LSU's postseason chances
---
RICE SCOUTING REPORT
Recent Results: Lost to North Texas 41-17, lost to Texas-El Paso 34-26, lost to Louisiana Tech 28-13
OFFENSIVE LEADERS: Quarterback Shawn Stankavage, running back Austin Walter, wide receiver Austin Trammell
DEFENSIVE LEADERS: Strong safety Prudy Calderon, outside linebacker Anthony Ekpe, free safety George Nyakwol
RUMBLINGS: It's been another long, long year for Rice, which is 1-10 and has lost 10 in a row on the heels of going 1-11 last season. Rice's only win this season came over Prairie View 31-28 in its opener Aug. 25. Since going 8-5 in 2014, the Owls are 10-37.
THE OWLS OFFENSE: Mike Bloomgren, who is in his first season as head coach after five years as Stanford's offensive coordinator, has used four quarterbacks this season — with Stankavage having the most success. Rice, however, ranks 123rd of 129 FBS teams in scoring (19.0) and 121st (324.5).
THE OWLS DEFENSE: Rice isn't much better on this side of the ball, either. The Owls rank 117th in scoring defense (37.5) and 101st in total defense (441.6). The Owls have given up 40 points or more in six games.
---
NUMBERS TO KNOW
Four key facts to know as No. 10 LSU hosts Rice on Saturday night in Tiger Stadium …
12: Consecutive games in which LSU's defense has had at least one interception
77: LSU's point total in a 1977 shutout of Rice, the most by the Tigers since 1936
5: TDs by LSU wideout Carlos Carson on five catches vs. Rice in 1977, a school record.
1961: Year of Rice's last win over a ranked LSU team (fifth)
---
FOUR DOWNS
1. Cleared for takeoff
This week's Four Downs isn't about what LSU must do to win. The Tigers are a virtual lock. It's about what the Tigers need to get out of this game. It starts with the pass. With an eye toward Texas A&M's vulnerable secondary, LSU must continue the modest progress it made against Arkansas. That means Joe Burrow needs to up his accuracy, blocking has to improve and receivers have to do a better job getting open.
2. The 'O' Identity
Coach Ed Orgeron said this week that LSU has lost its offensive identity over the past three games since Oct. 13, the date of the Tigers' signature 36-16 victory over then No. 2-ranked Georgia. Orgeron said LSU's offense needs to get back to basics. That means being able to pass effectively (see above) but also being able to run between the tackles when required. Against the Aggies, the Tigers are sure to need that ability.
3. A game called 'Concentration'
Saturday's game will mark Senior Night for 18 LSU players. In the past many a senior has been driven to distraction – and tears – by the sight of his family waiting for him at midfield with flowers and a hug. The seniors bidding Tiger Stadium adieu must quickly get their emotions settled and regain their focus on the game so that they don't let Rice linger, with an eye to the next objective which is …
4. Emptying the bench
More important than the mere feel good notion of getting seldom-used players some live action against an outmatched foe, the idea of this game being an extension of Texas A&M next week can't be overstated. Key LSU players need to be rested and avoid injury. And though it's unlikely, LSU doesn't need any Devin White-like targeting ejections of critical defensive personnel in the second half. That chance goes way down if they're second-half spectators.
---
EXPERT PREDICTIONS
BROOKS KUBENA: LSU 52, Rice 7
LSU has lost to Rice once in the last 51 years — a 17-7 setback in 1980, during the first season of former coach Jerry Stovall. That Rice team went 5-6 and LSU went 7-4. These are not those Tigers, and neither are these those Owls. Prepare to see LSU experiment in plenty of its personnel groups, and keep your program roster handy.
SCOTT RABALAIS: LSU 51, Rice 3
As the wise guys in Vegas say, I feel you can move on this game as if it has already been played.
SHELDON MICKLES: LSU 49, Rice 6
In Rice's only win, the Owls trailed Prairie View 21-19 at halftime and 28-19 after three quarters. In their current 10-game losing streak, they've led for a total of only 68 minutes, 42 seconds. The defense has given up 52 total TDs and at least 40 points on six occasions, which could be the cure-all for LSU's often-anemic offense.