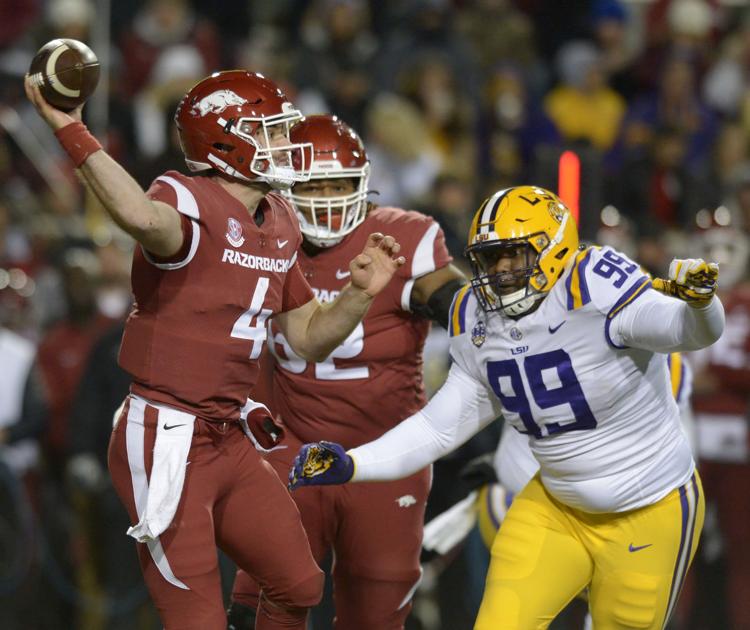 In soccer they call them "friendlies" — games between countries that have no impact on the standings.
In the Southeastern Conference this weekend, they may call them "uglies."
With few exceptions it is the week of the rent-a-win across this fruited conference. The weather should be top notch for football — leaves drifting across well-manicured campus lawns, bands belting out alma maters, the smell of someone's mascot being barbecued at a tailgate party — but the games themselves will leave something to be desired. Everyone, it appears, is taking one deep breath before the big rivalry games of Thanksgiving weekend.
In a schedule that only Steve Harvey would have loved — not comedian Steve Harvey but the Steve Harvey who invented the Bottom 10 rankings ("Texas at El Intercepted Paso, Cal State Disneyland, etc.") — we give you the week we wish that wasn't in the SEC:
• U.S. Rice Producers Association at LSU.
• Auburn vs. Chattanooga Company of Trainspotters (the "Fighting Choo-Choos").
• Citadel Radio (a real company) at Alabama.
• Idaho Potato Commission at Florida.
• Massachusetts Society Sons of the American Revolution at Georgia: One if by land, two if by sea, three if they opt for a running clock in the second half.
• Middle Tennessee School of Automotive Repair at Kentucky.
• Liberty Actuarial Club (a real club) at Auburn.
• Ole Miss at Vanderbilt: No need for a rent-a-win gimmicks, here. This is your classic Bottom 10 Crummy Game of the Week, both teams being 1-5 in SEC play.
Actually, all of the SEC versus SEC matchups are crummy. They all feature pillow fights between teams with losing conference records, with Arkansas (2-8, 0-6) at Mississippi State (6-4, 2-4) and Missouri (6-4, 2-4) at Tennessee (5-5, 2-4). The best game in the whole conference, and sure to be one of great interest to LSU fans, will be surprising 9-1 UAB at 6-4 Texas A&M.
As a wise man said on local radio this week — talk show host and gourmet football connoisseur Charles Hanagriff — it would have been fine if these games had come to us in September. We baked out brains out all summer waiting for some football, any football, so that even Vandy taking on Nashville Night School of Studio Musicians & Backup Vocalists would have had us scrambling to our televisions. Instead, fans will be scrambling to write their state legislators to drag SEC members to the bargaining table to hammer out a plan for a nine-game conference schedule format.
But this week is what it is, unfortunately all a bit of a snore. Maybe if we nap now it can help us avoid the post-Thanksgiving feast coma that will have us missing important football games next weekend (remember, the Saints host Atlanta on Thanksgiving night).
You can't blame the coaches and players if they're embracing a breather this week. It is a long season, one that for most still has two to four pressure-packed games remaining.
For LSU in particular, the Rice game can be an extension of next week's regular-season finale at Texas A&M, a game as much of a tossup for the Tigers as the one with Rice appears to be a cinch.
Coming off the 29-0 loss to Alabama that effectively ended LSU's championship hopes — the Tigers are still alive for a berth in the College Football Playoffs, but it's practically a lottery ticket chance — LSU was supposed to get a running start against Arkansas. What was a 24-3 lead at the start of the fourth quarter melted down into a less-than-stellar 24-17 victory that had people talking more about Nick Brossette sliding than what should have been a reaffirming win.
Now LSU gets a second chance, primarily for its offense, to make amends. It will be a balancing act, though, as the Tigers try to get by without some key defensive players like defensive end Breiden Fehoko and cornerback Kristian Fulton. And the offense needs to be productive enough to put enough space between the Tigers and the Owls to allow LSU to pull some starters early and get playing time for loyal backups. Backups like quarterback Myles Brennan, who is on the redshirt route after getting supplanted by Joe Burrow this season (because of the new redshirt rules, players like Brennan can still bank their year of eligibility despite competing this late in the season).
Virtually all of the Tigers' big hopes and dreams – the program's first 10-win regular season since 2012 and its first CFP New Year's Six bowl bid – rest on what LSU does at Texas A&M. It may be a modest start, but the Tigers need to find their form against Rice for a better effort against the Aggies.
What else are rent-a-wins for?
Follow Scott Rabalais on Twitter, @RabalaisAdv.​