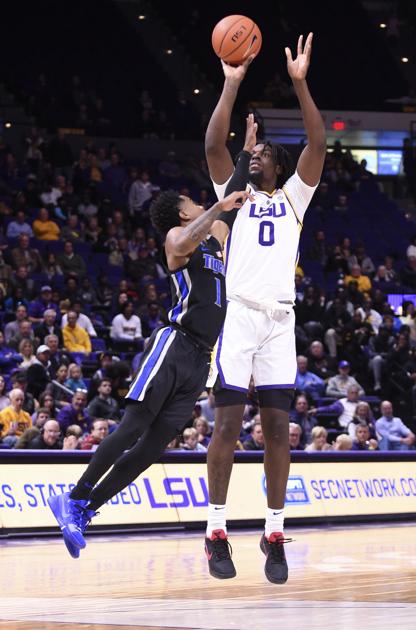 General Info
• What: Louisiana Tech (3-0) at No. 22 LSU (3-0)
• When: 7 p.m. Friday
• Where: Pete Maravich Assembly Center
• All-time series: LSU leads 10-1
• Last meeting: LSU 68, Louisiana Tech 52 (Dec. 23, 2006 in Baton Rouge)
• Streaking: Louisiana Tech (W3), LSU (W3)
• TV: None
• Online: SEC Network+ (www.ESPN.com/watch)
• Radio: WDGL-FM, 98.1; WWWL-AM, 1350; KLWB-FM, 103.7 (Chris Blair, play-by-play; John Brady, analyst)
• In game Twitter updates: @MicklesAdvocate
• Up next: vs. Charleston at Advocare Invitational (Orlando, Fla.), 6 p.m. Thursday
The Storyline
LSU coach Will Wade only had to read the top line of the Louisiana Tech schedule to know what to expect from the Bulldogs on Friday night. There, it shows that Tech scored a "comfortable" 13-point victory in its season opener at Wichita State on Nov. 6, a win that Wade said didn't require anyone to have an out-of-body experience. Tech shot 44.0 percent from the field, but held Wichita State to 37.0 percent shooting and outrebounded the Shockers by a 37-26 margin to steal a road win. They even did it with starting guard DaQuan Bracey playing just 25 minutes because of an ankle injury, but he scored a team-high 16 points. He missed the next two games, but could return against the Tigers. Guard Amorie Archibald and forward Mubarack Muhammed took up the scoring slack in the next two games with team-high totals of 17 points. LSU has averaged 92.0 points in its first three games, but the focus will be on improving its 3-point field-goal defense as opponents have knocked down 36 against them and are shooting 41.9 percent from beyond the arc.
Starting Five
• FAST START: With a victory over Louisiana Tech on Friday night, LSU would be off to a 4-0 start for the first time since the 2012-13 campaign. They won their first six that season under former coach Johnny Jones.
• PMAC STREAK: LSU has won 10 games in a row at home dating to last season. It's the longest for the Tigers streak since taking 11 in a row (the last nine of the 2005-06 season and first two of the 2006-07 campaign).
• LIGHTING IT UP: LSU has scored at least 85 points in its first three games — all wins. That's the first time the Tigers have started with three wins and scored 85 points or more in each since the 1994-95 season.
• HELLO AGAIN: The meeting between LSU and Louisiana Tech will be only the 12th all-time on the basketball court and just the third since 1946. Their most recent meetings have come in 1988 and 2006.
• STANDING TALL: Louisiana Tech has outrebounded its first three opponents by 11, 14 and 23 and averages 42.0 rebounds a game. LSU has won the rebounding battle in all three games as well and is plus-32 for the season.
By the numbers
150 — Points scored by LSU freshmen Naz Reid (57), Ja'vonte Smart (36), Emmitt Williams (30) and Darius Days (27) of the team's total of 276 points in its first three games, or 54.3 percent of the Tigers' offensive output.
The Lineups
Louisiana Tech Bulldogs (3-0)
Probable starters
• G Derric Jean, 6-2, Sr., 5.0 ppg, 4.3 apg
• G Amorie Archibald, 6-3, So., 12.7 ppg, 6.3 rpg
• G Exavian Christon, 6-4, So., 10.0 ppg, 3.7 rpg
• F Anthony Duruji, 6-7, So., 10.3 ppg, 4.3 rpg
• F Oliver Powell, 6-8, Jr., 8.3 ppg, 5.3 rpg
Key reserves
• F Mubarak Muhammed, 6-7, Jr., 11.0 ppg, 7.3 rpg
• G JaColby Pemberton, 6-5. So., 8.3 ppg, 5.0 rpg
• G DaQuan Bracey, 5-11, Jr. 16.0 ppg, 4.0 rpg
LSU Tigers (3-0)
Probable starters
• G Tremont Waters, 5-11, So., 12.7 ppg, 6.7 apg
• G Skylar Mays, 6-4, Jr., 13.0 ppg, 3.0 rpg
• G Ja'vonte Smart, 6-4, Fr., 12.0 ppg, 4.3 rpg
• F Naz Reid, 6-10, Fr., 19.0 ppg, 6.0 rpg
• F Emmitt Williams, 6-7, Fr., 10.0 ppg, 8.3 rpg
Key reserves
• F Darius Days, 6-7, Fr., 9.0 ppg, 4.3 rpg
• F Kavell Bigby-Williams, 6-11, Sr., 7.7 ppg, 3.7 rpg
• G Marlon Taylor, 6-5, Jr., 6.7 ppg, 1.7 rpg