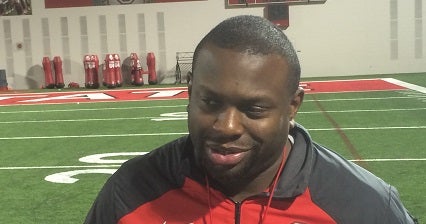 Ohio State was an offense that utilized a lot of run-pass option (RPO) plays through the first eight games of the season.
Then against Nebraska last week, the No. 10 Buckeyes (8-1, 5-1 Big Ten) suddenly used very little RPOs.
The coaching staff has downplayed it this week – and who really knows if one week is an aberration, or the beginning of a trend.
Many media members and fans seem to presume it is the latter, and Bucknuts asked OSU running backs coach Tony Alford for his thoughts on what appeared to be a big change for the Buckeyes against the Cornhuskers.
"I think a lot of it is schematics, as far as who you are playing against and what their scheme is and what our scheme is," Alford said. "It comes down to matchups and things like that.
"We said here's what we're going to go do. And we needed to do it. Ohio State is known as a physical program. And not from just one year to the next; through the course of time. So, we put an emphasis on getting back to that.
"But I've been a part of offenses where we've moved it around week-to-week before. So, to say it's been some seismic change, I don't know if I would subscribe to that."
Head coach Urban Meyer said the Buckeyes would likely use more RPOs in certain games compared to the Nebraska contest, depending on who OSU was facing. That echoed Alford's comments on the topic, so at least publicly, the Buckeyes aren't turning their back on RPOs plays for the remainder of the 2018 season.
For example, Ohio State faces the No. 1 rushing defense in the country this week in Michigan State, and Alford was asked if RPOs can be effective against a defense like the Spartans'.
"Yeah, against all defenses," Alford said. "Listen, an RPO, when JT (Barrett) was here, he would pull it and run (if he didn't hand off to the running back). Well with the RPO now, when we pull it, we throw it. So, you take it for what it is. And that's part of the run game (plays where Haskins pulls the ball and throws a short pass).
"So, we'll keep punching the ticket and see how we do."
For much more from Alford, watch our video interview with him atop the story. It runs north of 11 minutes and covers a lot of ground.