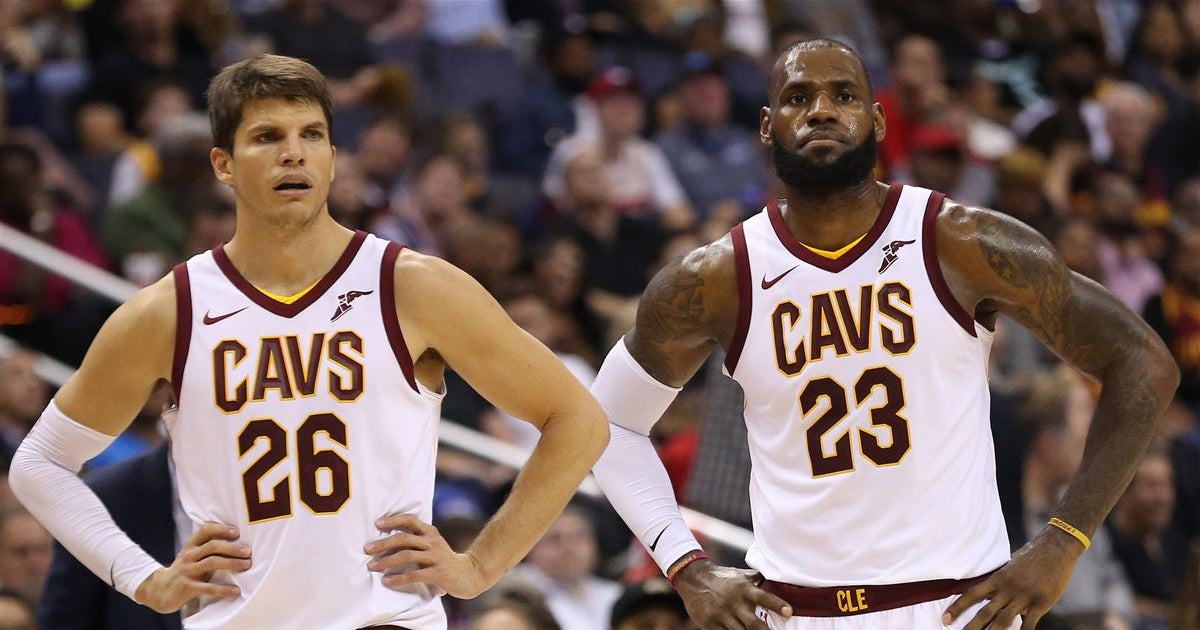 The Cleveland Cavaliers are imploding. With a 1-10 record they appear to be the odds-on favorite to earn the No. 1 pick in June's NBA Draft, and they have already made the move to emphasize their young talent in allocating playing time. Veteran stalwarts like Kyle Korver and J.R. Smith are out. Youngsters like Cedi Osman and Colin Sexton are in. The Cavs might not have much use for those players, but other teams certainly do.
One of those teams would be the Los Angeles Lakers, a team built around the idea that shooting three-pointers is not mandatory. But 11 games into the season, their 5-6 record would seem to indicate that it is. The Lakers have already course-corrected once when this year when it comes to roster mistakes. They picked up Tyson Chandler after failing to secure a backup center in free agency when the veteran was bought out by the Phoenix Suns. In Cleveland's predicament, the Lakers have a chance to fix one of their other big holes. They can add a shooter.
Smith is out of the question. The Lakers have too many personalities as it is on this team, and LeBron James might not be too eager to reunite with him following the disaster that was Game 1 of the NBA Finals. But Korver makes perfect sense. The two shared two trips to the NBA Finals, and Korver already knows the pressures that come with playing alongside James and the specific ways in which he likes to get his shooters the ball. The adjustment period would therefore be minimized. Korver would seem to be a perfect trade candidate, save for one major issue.
Korver is on the books for $7.5 million next season. The Lakers are pinching pennies to create a max salary slot for a star free agent in July. They therefore don't want to take on any extra money to improve this year's team. Next year's group, presumably with that star free agent joining up, is the one that the Lakers are focused on. But if the Lakers play their cards right, they can add Korver without impacting their ability to add that kind of free agent next year.
The simplest way to explain the Lakers' cap situation for this summer is that they have around $62.2 million in salary commitments under a projected $109 million cap. Neither of those numbers are final or exact, but they provide a basic framework of where the Lakers are. They will have, under those numbers, around $36.8 million to spend. The maximum a player can earn in the first year of a new deal is based on his NBA experience. A player with four-to-six years of service time can earn up to 25 percent of the cap, of $27.25 million under current projections. A player with seven-to-nine years, the all-important Kawhi Leonard bracket, can earn up to 30 percent, or $32.7 million. Players with 10 or more years of experience can earn 35 percent, or $38.15 million. This is the Kevin Durant group, one that the Lakers are not prepared to offer at this moment.
The longer explanation to where the Lakers are is that salary cap numbers are fungible and eeking out extra space is eminently doable. The Lakers will probably stash their first-round pick in Europe next year, for example. They could quite easily move their smaller salary cap figures as well, namely Mo Wagner and Isaac Bonga, who we will get back to. What the Lakers need to be concerned about at this moment is salary cap ranges more so than exact figures. There is always a way to eek out some extra room.
Which brings us back to Korver. On the surface, it would appear as if his $7.5 million salary would take the Lakers out of range for all but the lowest tier of max free agents over the summer. The reality is far easier to swallow. Only $3,440,000 of Korver's salary next season is guaranteed. They could immediately wipe the rest of his salary off of the books if they needed it for a free agent. In fact, they could get rid of quite a bit more.
The stretch provision allows teams to spread the dead money on a waived player over twice the number of years remaining on his deal, plus one. That is how the Lakers got rid of Luol Deng. What is key in Korver's case is that the stretch provision only accounts for guaranteed money. The $7.5 million figure is meaningless for him. The Lakers would be stretching Korver's $3.4 million over three years, bringing his actual cap figure for the 2019-20 season, should the Lakers move on from him, down to around $1.15 million.
The future cost of acquiring Korver is therefore fairly minimal, and the upside is quite high. The Lakers need to have the salary cap space to sign top free agents, but they also need to have the track record to convince them to come to Los Angeles in the first place. If adding a shooter is the difference between losing in the first round of the playoffs or the second, the Lakers should bite the bullet and eat that extra money to prove their competitiveness to free agents. If Leonard, Jimmy Butler or any other free agent wants to win a championship, the Lakers will have a hard time convincing them to join the team without having won a playoff round.
If Magic Johnson agrees with this logic, the only thing he'll need to figure out is how to match salaries on a trade for Korver this year. That $7.5 million figure comes back into play here as it is Korver's cap number this season. Considering how small the salaries at play here are, the Lakers could absorb up to 175 percent of the salary they send out. So let's stack some salaries. Remember Bonga and Wagner? Combine their salaries with Ivica Zubac's, and the Lakers have just over $4.3 million in outgoing salary that isn't particularly valuable to them. That squeaks within the 175 percent rule (taking into account the $100,000 cushion included within it) to make this trade legal.
Now here's the kicker. If the Lakers did decide to stretch Korver after the season, he would only be on their books for around $1.15 million. Bonga and Wagner, combined, will cost the Lakers over $3 million. By trading for Korver now, the Lakers would not only be improving their present roster, but saving themselves that bit of extra money later. It isn't enough to get them up to Durant's projected max (especially since you have to factor in an extra incomplete roster charge at over $800,000 to account for the extra empty roster spot), but they would be close enough that a higher-than-expected cap could get them there.
All that would be left would be for the Lakers and Cavs to agree on compensation—an extra second-round pick should do it with the young talent coming in the form of salary filler—and for Cleveland to create two roster spots to accommodate their new players, which they could do fairly easily. Even if Cleveland is opposed to either condition, it's worth noting that Korver could apply some degree of pressure on the organization to send him to a desired location. He is beloved in player circles and a former member of the NBPA's executive council. Keeping him on a bad team at his age would be a bad look for an organization in desperate need of some good press. The Cavs will probably try to do right by Korver.
And sending him to the Lakers would be a way to do that. Korver wants to win, and he knows that he can do so alongside James. The specifics of such a deal are still debatable. If the Lakers are fussy about trading Wagner so soon after drafting him, for instance, they could wait until the December 15th moratorium on trading free agents passes and include the dead salary of Michael Beasley instead. But if their only concerns are financial, those should be quelled by now. The Lakers can fit Korver within their cap this year and next. He can help them win basketball games. He should be a major trade target a Lakers team desperate for spacing.