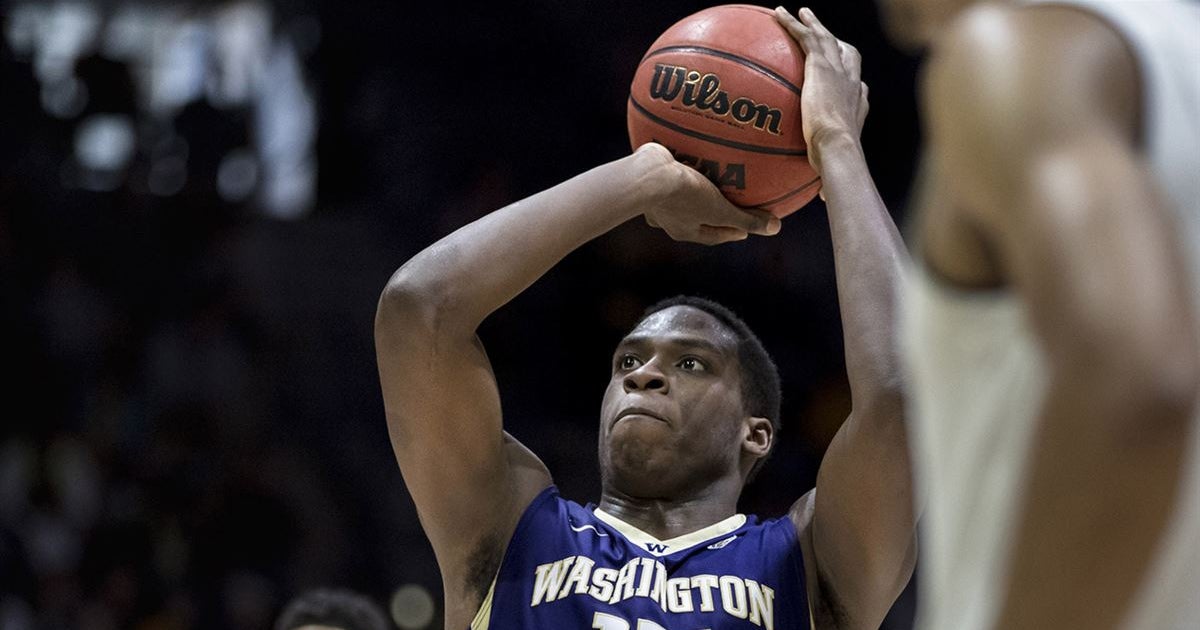 UW hits the road for its first true road contest of the season this Friday, November 9 as it faces preseason No. 11/12 Auburn in Alabama at Auburn Arena. The game will be televised by the SEC Network at 6:30 p.m. PT with Richard Cross and Daymeon Fishback on the call. Fans can also tune into 1000AM KOMO/97.7 FM to listen to the official Husky Radio Broadcast from Tony Castricone and Jason Hamilton. This is the first meeting between the two programs.
Last Time Out
UW defeated Western Kentucky, 73-55, to post its 991st victory inside Alaska Airlines Arena in program history. UW overcame a nine-point halftime deficit thanks to Noah Dickerson scoring 16 of his team-high 18 in the second half. David Crisp dished out seven assists while Matisse Thybulle added a career-high tying six blocks. UW forced 16 turnovers and recorded nine team blocks and six team steals. Nowell has reached double figures in 31 of his 35 career games after scoring 17 against WKU. UW held WKU to just 55 points, 19 in the 2nd half. Washington had just eight turnovers
What Returns/Active Leaders
The Huskies boast the highest percentage of returning minutes and scoring (95.9%) among Power 5 programs. … UW returns all five starters and better than 95 percent of its rebounding, assists, threes, blocks and steals as well … amongst active career leaders in the Pac-12 Conference, UW leads in rebounds (Noah Dickerson – 718), three-point field goals (David Crisp – 184), steals (Matisse Thybulle – 206) and blocks (Matisse Thybulle – 109).
Exhibition Recaps
at Preseason No. 7 Nevada – Oct. 21
-Washington won 91-73
-Sophomore Jaylen Nowell scored 26 on 12-of-15 shooting … added six rebounds and three assists
-Senior David Crisp posted 20 points with five assists
-Washington shot 61.7% from the field and 50% from 3-point range
-Senior Matisse Thybulle scored 17 and added six re-bounds, six assists, five steals and three blocks
-UW held Nevada to 23.8% shooting from 3-point range (5-of-21) and 38.8% shooting from the field (26-of-67)
-UW assisted on 19 of its 37 made baskets
vs. Seattle Pacific – Nov. 1
-Washington held SPU to 37.5% shooting from the field and 22.2% shooting from 3-point range
-UW had two 20-point scorers in Jaylen Nowell (23) and David Crisp (20)
-Matisse Thybulle recorded eight steals, seven rebounds and three blocks
-Nowell also added six rebounds and two assists
-Sam Timmins pulled down a team-high nine rebounds
100 Career Games
Against Auburn, senior Noah Dickerson will be playing in his 100th career game. Seniors Matisse Thybulle and David Crisp recently played in their 100th career games against Western Kentucky.
Thybulle's Streak
Junior Matisse Thybulle has started every game of his UW career which now spans 100 games. Next on the UW list of consecutive starts is all-time leading scorer Chris Welp who started in 121-straight games from 1983-87.
392 Games Played
Between UW's four seniors, David Crisp, Noah Dickerson, Dominic Green and Matisse Thybulle, they have played 392 career games with 254 career starts. The 392 career games is the most by a senior class (that has been at the same institution all four years) amongst any team in the Power 5 Conferences.
200 Steals + 100 Blocks
Senior Matisse Thybulle is the only active player in NCAA Division 1 to have over 200 steals and 100 blocks in their career … his 206 steals rank third amongst the NCAA active career leaders in that category. Only two other Pac-12 guards have accomplished that career feat since 1992-93 in (via SportsReference)
Matisse Thybulle, UW, 2015-now 206 stls, 109 blks
Hassan Adams, Arizona, 2003-06 238 stls, 85 blks
Jeff Trepagnier, USC, 1998-01 204 stls, 105 blks
Season 95 Steals + 40 Blocks
Additionally, in a single season, Thybulle, with his 101 steals and 49 blocks last year made him the only player in the country with those two numbers on their stat sheet. In the last 25 years (since 1992-93, via SportsReference) only three other guards have done that in a season
Matisse Thybulle, UW, 2015-now 101 stls, 49 blks
Gary Payton Jr –OSU, 2014-15 98 stls, 95 blks
Jamaal Tinsley – ISU, 99-00 98 stls, 37 blks
Two 1K Scorers +1 On The Way
UW has two 1,000 point scorers on its roster as senior Noah Dickerson is at 1,183 while senior David Crisp is at 1,080. Additionally, senior Matisse Thybulee is 76 points away from the 1K-point club as he is at 924. In UW history, only two rosters in UW history have had three 1,000 point scorers at the same time, 2008-09 (NCAA Round of 32) and 1998-99 (NCAA Round of 64).
1998-99 – Todd MacCulloch, Donald Watts, Deon Luton
2008-09 – Quincy Pondexter, Justin Dentmon, Jon Brockman
Length, Length, Length
Washington's roster is quite lengthy and not because of quantity. Six of the key players have wingspans that are at least four inches longer than their actual height. Senior guard Matisse Thybulle's wingspan is seven inches bigger than his 6-5 frame at 7-0 while freshman Bryan Penn-Johnson brings a 7-7 wingspan on his 7-0 body. Take a look:
Player Height Wingspan
Matisse Thybulle 6-5 7-0 (+7)
Bryan Penn-Johnson 7-0 7-7 (+7)
Hameir Wright 6-9 7-2 (+5)
Dominic Green 6-6 6-11 (+5)
Nate Roberts 6-10 7-2 (+4)
Jamal Bey 6-6 6-10 (+4)
Returning Scoring The Huskies return 95.9 percent of its scoring from a year ago which is the most by a team in any of the Power 5 conferences. Here's a look at where they rank amongst all returning scoring in Division I.
George Mason 100%
Harvard 99.4%
Wofford 96.0%
Washington 95.9%
Brown 95.3%
Iowa 94.9%
Wisconsin 94.9%
UC Irvine 94.3%
Syracuse 93.8%
St. Francis 93.6%
The Coach
Head Coach Mike Hopkins is in his second year at Washington, and second as a head coach after becoming the 19th head coach in UW history. After spending 22 years as an assistant at Syracuse, Hopkins oversaw teams that reached the NCAA Tournament 16 times including the 2003 National Championship, four Final Fours, five Elite Eights and 10 Sweet 16s along with four NIT berths. Syracuse never dipped below a 55.0 percent record while Hopkins was on staff. In his first year at UW, Hopkins earned the 2018 Pac-12 Coach of the Year Award while leading the Huskies to a 21-13 record ending in the second round of the NIT.
Quick Hitters
UW opened the season with an 18-point victory over Conference-USA preseason favorite Western Kentucky which saw the Hilltoppers score just 19 points in the second half and 55 overall

Matisse Thybulle, UW's career steals leader at 206, has now recorded at least one steal in 47-straight games

Thybulle's six blocks against WKU tied his career high and were the most by a Husky since he had six inthe season opener against Yale on Nov. 13, 2016

This will be the first non-conference meeting for a ranked UW team against a ranked opponent since Dec. 20, 2014 when the No. 16 Huskies defeated No. 15 Oklahoma, 69-67, in Las Veags.

Washington currently has two 1,000 point scorers on the team with the potential to add a third as Matisse Thybulle is 74 points away. Only two rosters in UW history have had three 1,000 point scorers at the same time, 2008-09 (NCAA Round of 32) and 1998-99 (NCAA Round of 64). Noah Dickerson currently has 1,183 career points which ranks 27th while David Crisp has 1,080 career points which ranks 33rd.

Seniors Matisse Thybulle and David Crisp played in their 100th career games on against WKU and it was also Thybulle's 100th career start as he has started every game of his career … against Auburn, senior Noah Dickerson will be playing in his 100th career game

UW has representatives on three of the Naismith Starting Five National Award Watch Lists in sophomore Jaylen Nowell (Jerry West Shooting Guard Award), senior Matisse Thybulle (Julius Erving Small Forward Award) and senior Noah Dickerson (Karl Malone Power Forward Award). UW is one of 11 schools nationally to have representatives on three of the 11 awards joining Kentucky, Duke, Tennessee, Virginia, Kansas, Nevada, Auburn, Oregon and Gonzaga.

With 285 boards this year, Noah Dickerson can become only the 15th member of the Pac-12's 1,000 career rebounds club. Dickerson, who has 715 boards in his career, grabbed 284 boards as a junior in 2017-18.

With another 100-steal season, Matisse Thybulle could become only the second member of the Pac-12's 300 career steals club. Thybulle, who has 206 career thefts following 101 as a junior in 2017-18, would join OSU's Gary Payton (321) as the lone members.

Washington's 2018-19 schedule features two non-conference road tests against teams ranked in the AP preseason top 25 (at Auburn, at Gonzaga). Additionally, Washington will face eight teams that advanced to the NCAA Tournament a year ago.

UW's senior class of Dominic Green, David Crisp, Noah Dickerson and Matisse Thybulle have combined to play in 392 career games including 254 career starts which is the most by any four seniors at a Power 5 school

With his 106 assists a year ago, junior David Crisp became the 40th player in UW history to record 100 assists in a single season … he is 51 away from entering UW's career top 10 list as he has 266 total assists

Washington posted its first 20-win season since 2011-12 with its 21-13 record last season … it was the biggest jump win jump between seasons since 1936-37 to 1937-38 after UW went 9-22 the season prior (2016-17) … it was also the biggest jump (eight wins more) in conference play in UW history as UW went from 2-16 to 10-8 a year ago