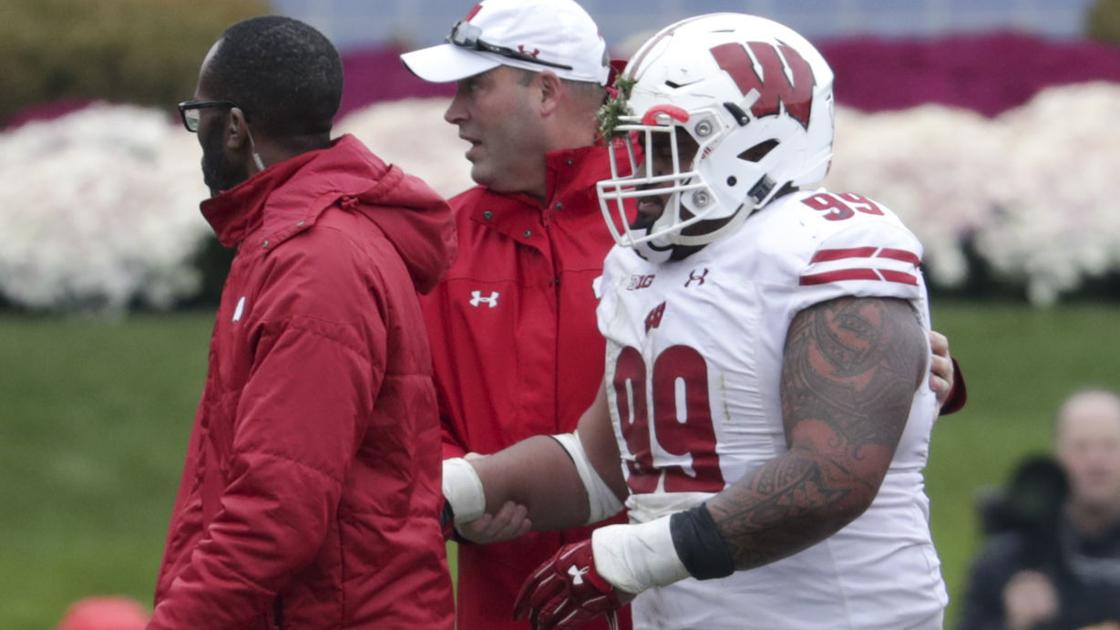 Nose tackle Olive Sagapolu, a four-year starter in the middle of the University of Wisconsin's defense, has played his final snap for the Badgers.
UW ruled Sagapolu out for the rest of the season Thursday after the senior underwent surgery on his right arm Wednesday.
"He's been great how he's handling it, but you feel bad for him — any time guys miss games, but particularly seniors," UW coach Paul Chryst said.
"He was playing really good, and he's done that for a long time. He played as a true freshman, and he got understandably overshadowed with Conor (Sheehy) and Chikwe (Obasih) and Alec (James). He was playing really well this year."
Sagapolu suffered the injury at Northwestern on Oct. 27. The Badgers held out hope he could return until opting for surgery this week.
True freshman Bryson Williams, who made his first career start last week in UW's 31-17 win over Rutgers, will now serve as the Badgers' No. 1 nose tackle.
"We've loved the way he's progressed throughout the season," UW defensive coordinator Jim Leonhard said of Williams. "Just with his understanding of the scheme and then just gaining confidence and learning what I can and can't do as a player at this level as a true freshman.
"We knew we were going to expand his role a little bit as the season continued to progress, and obviously now he's thrown into the fire. He's got no options but to play some more snaps for us. And I think he's ready."
Williams said he approached practice a bit differently leading up to his first start last week, wanting to earn the trust of his teammates and make sure the drop-off with Sagapolu out wasn't too steep.
While he didn't see the field much during non-conference play, his role started increasing long before Sagapolu's injury. He's even earning snaps in nickel packages now, an area where Sagapolu contributed significantly this season and one Williams may be used in more often at Penn State on Saturday.
Williams said he wouldn't be this far along if he hadn't enrolled early and participated in spring practices.
"Coming in during the spring was such a big deal for me, so I didn't have to try to crunch about six months of what I was doing within a three-month span," Williams said. "It's a lot to learn. As a defensive lineman in high school, you don't really have any assignments or any schemes or anything like that, but there's so much learning you have to do here, both mentally and physically. So I'm happy I came early. I think it was a huge advantage for me."
Williams said he believes he's got the mental side of the game down. Now it's about feeling what block he's getting and recognizing where the play is heading — something he noted Sagapolu did well but could take more time for him to nail down.
There may be a tendency for Williams to try to do too much when replacing Sagapolu, but he's focusing on simply being the best version of himself on the field over the Badgers' last few games.
"I do feel a little bit more pressure," Williams said. "I was talking to Olive (Tuesday) night. One of the things he told me was, don't try to be him. Just do your and do your job well. That's what I've got to do. I've got to relax a little bit and not try to be somebody I'm not. It's too late in the season to try to come out of nowhere and be something I'm not. I've just got to stick to what I've been doing all season."
Hornibrook remains questionable
UW quarterback Alex Hornibrook remained questionable when the Badgers released their updated injury report Thursday. The junior suffered his second concussion in three games against Rutgers last week.
Safety Scott Nelson (hamstring) and cornerback Deron Harrell (ankle) are also still questionable, although Leonhard said Wednesday that the pair participated in team drills this week for the first time since their injuries.
Rudolph nominated for Broyles Award
UW offensive coordinator and offensive line coach Joe Rudolph was announced Wednesday as one of 53 nominees for the Broyles Award, given annually to college football's top assistant coach.
A 19-member selection committee will select 15 semifinalists and five finalists from the list of nominees and an overall winner. Those finalists will be invited to travel to Little Rock, Ark. where the winner will be announced Dec. 4 at the Marriott Hotel.
UW adds walk-on for 2019 class
In-state linebacker Tate Grass announced on Twitter late Wednesday night that he accepted a preferred walk-on offer to UW.
Grass, a 6-foot-2, 215-pound prospect from Holmen High, chose the Badgers over offers from Winona State and Minnesota-Duluth, per Rivals.