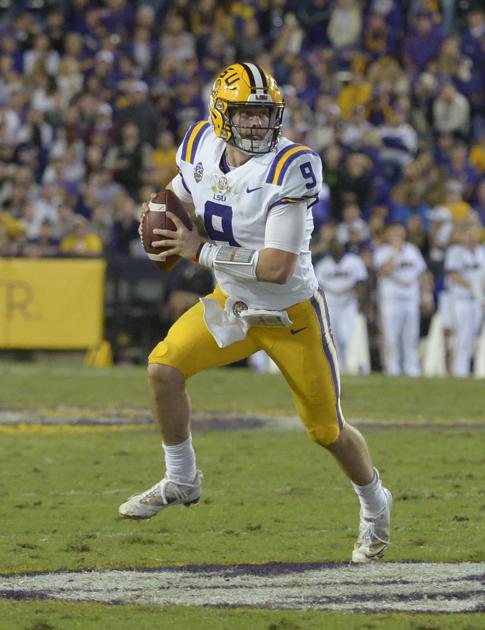 When it comes to scoring touchdowns, No. 9 LSU has had a case of the red-zone blues — especially lately.
After opening the season with some impressive numbers once they got inside their opponents' 20, the Tigers have struggled in the past month to get the ball all the way to the end zone.
The NCAA and Southeastern Conference stats look good for LSU considering the Tigers are getting points at an 87.5 percent clip on 40 trips to the red zone, but a closer look shows problems — particularly since the Florida game.
Steve Ensminger's offense ranks sixth in the SEC and 35th out of 129 FBS teams in overall red-zone efficiency, but the numbers take a major hit when Cole Tracy's 17 field goals are taken out of the equation.
In nine games, LSU has scored just 18 touchdowns in 40 red-zone visits, which means the Tigers have gotten six points just 45.0 percent of the time — which is last in the conference.
No one else in the 14-team league is below 50 percent although Arkansas, who LSU plays Saturday night in Fayetteville, is right at that number.
But after scoring 14 touchdowns in 25 red-zone opportunities (56.0 percent) in the first six games, the Tigers are 4 of 15 (26.7 percent) in its past three games  — victories over No. 2 Georgia and Mississippi State and a loss to top-ranked Alabama.
It's no coincidence that the Tigers scored just 19 points against State and were shut out by Alabama, going 1 of 7 in the red zone in those two contests.
Even with a 36-point explosion against Georgia, LSU put only three touchdowns on the scoreboard despite getting to the red zone eight times.
"Yeah, guys are changing their coverage on us," LSU coach Ed Orgeron said Monday. "They know what we're doing, so we have to be more creative. We have to run the football, we have to do a couple of different things."
Make no mistake about it, LSU's had its chances. Only Alabama (51) and Ole Miss and Texas A&M (42 each) have been in the red zone more this season.
LSU's percentage of red-zone touchdowns, however, took another hit in a 29-0 setback to Alabama last Saturday.
With the outcome already decided, the Tigers reached the Tide's 15 and 12 on their final two possessions. But Tracy misfired on a short field-goal try and Joe Burrow was intercepted in the end zone.
"We had some plans to be a little bit more creative in the red zone," Orgeron said. "But they changed their coverage. Some of the routes we were going to run, we couldn't run against their coverage.
"They played some coverages more than they played against other teams, that they played against us."
Specifically, Burrow and wide receiver Justin Jefferson said Alabama went to more zone coverage when LSU finally reached the red zone late in the game.
"They played a little more zone in the red zone than they had previously, but it was nothing we hadn't seen on film," Burrow said. "They just executed better."
"We expected them to come with man, but the linebackers dropped under our crossing routes, cornerbacks were sitting." Jefferson said. "We just have to play better ball."
Burrow has just six touchdown passes this season, with all of them coming in the month of September. His streak of no touchdown passes stands at four games going into the matchup with Arkansas.
Only two of LSU's 18 red-zone touchdowns have come via Burrow's right arm.
"Teams are starting to play a little more zone against us, especially in the red zone," he said when asked if teams were doing anything differently. "We've kind of struggled with it. That's going to be a big emphasis this week in practice: me using my eyes to kind of get guys open."
Jefferson, who has 36 receptions for 552 yards and two TDs, said he's noticed it has been harder to score when the Tigers reach the red zone.
"That's one thing that's difficult about later games (in the season)," he said. "Teams can watch film and study us. We just have to find a way through it.
"We have to make our catches, make our big-time plays, make our big-time runs. It doesn't matter what they do, we have to go out there and execute."
SEC red-zone offense
Total scores percentage
1. Ole Miss, 92.9
2. Georgia, 92.1
3. Florida, 90.1
4. Arkansas, 90.0
5. Mississippi St., 88.9
6. LSU, 85.7
7. Missouri, 87.2
8. South Carolina, 85.3
9. Tennessee, 85.2
10. Auburn, 84.6
11. Alabama, 82.4
12. Texas A&M, 81.0
13. Kentucky, 78.3
14. Vanderbilt, 70.6
TDs-only percentage
1. Alabama, 68.6
2. Mississippi St., 66.7
3. Georgia, 63.2
4. Tennessee, 63.0
5. (tie) Auburn, 61.5
Missouri, 61.5
7. Florida, 60.6
8. Ole Miss, 59.5
9. Kentucky, 56.5
10. South Carolina, 55.9
11. Texas A&M, 54.8
12. Vanderbilt, 52.9
13. Arkansas, 50.0
14, LSU, 45.0
Follow Sheldon Mickles on Twitter, @MicklesAdvocate.